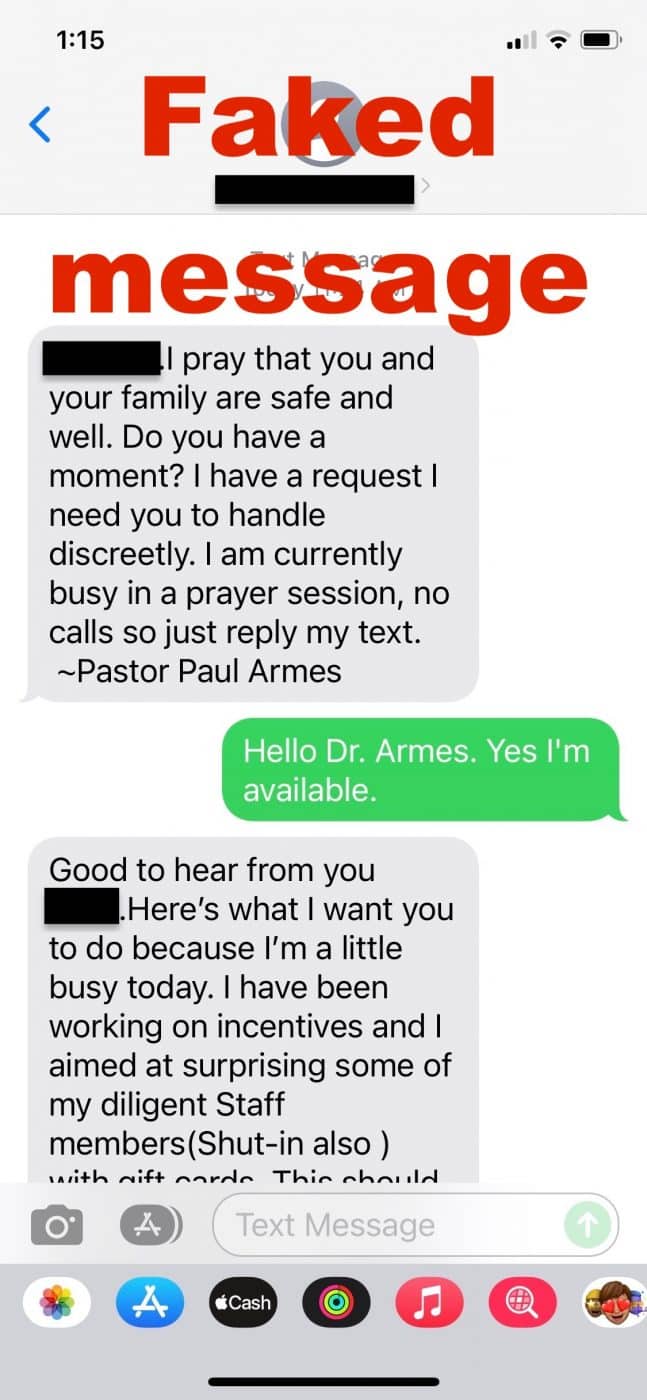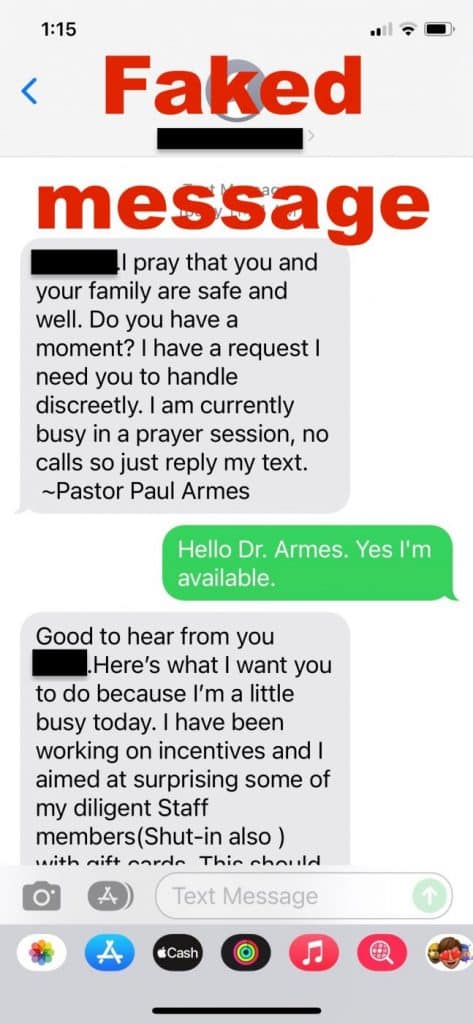 It came to my attention this week that there has been some email and texting scam going around that is disguised as though it were from our church. The message usually goes something like this "Hi _____________. I pray you and your family are safe and well. Do you have a moment? I have a request I need you to handle discreetly. I am currently busy in a prayer session, no calls so just reply to my text/email. -Pastor Paul Armes (or Pastor Mark previously)." THIS IS NOT FROM OUR CHURCH. Upon careful scrutiny these messages don't come from our church's email address, or even personal ones. They are from someone who is cleverly creating emails to appear as though they are from our church staff.
I want to warn you of a few things in this message.
These messages are not from our church and we will not ask something like this. Our church email should end in @fbcbwd.com with the exception of Dr. Armes who uses his personal email. And if you do not have our phone number, please feel free to check in our directory any time you have a question.
This scam will eventually try to get you to purchase some kind of gift cards and send the paper printout of the cards back to the number or email address (they say they want to give it to staff or church members). They are preying on the kindness of church members, but only intend to be after selfish gain.
Being confronted with something like this can leave us feeling extra guarded, jaded, hyper-vigilant, or even defeated. There are always people who want something for nothing. There are always people who want to take advantage of people's good will and kindness.
What do we do?
Peter reminds us in 1 Peter 5:8 "Be sober-minded, be alert. Your adversary the devil is prowling around like a roaring lion, looking for anyone he can devour." This is true. You and I have an enemy. That enemy is doing whatever it can to thwart the ministry of God. But that enemy is not the person who sent this message. It is the ruler of evil. And this is only a symptom of that evil. The person who sent this can be redeemed, turn from the sin of selfishness and repent. I pray they do. But as Paul reminds us in Ephesians 6:12 "our struggle is not against flesh and blood, but against the rulers, against the authorities, against the cosmic powers of this darkness, against evil, spiritual forces in the heavens."
So, be aware of these types of schemes. If you think something looks suspicious, it's ok to check with us. Let us know if you get anything like the above message sent to you. And remember that we have the Lord's wisdom, all we need to do is ask for it. Continue to let your grace reflect that of God's grace shown to you and don't let something like this keep you from having a spirit of love and generosity.
Grace and peace,
Keith (AP)